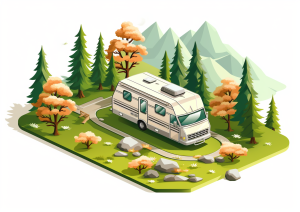 SPRING OPENING PACKAGE
$255. plus HST
 BRAKES,BEARING,
& LUBE PACKAGE
$175 +HST per Axle
 WINTERIZING PACKAGE
$120.00 -$150.00 plus HST
Depending on location, model and scope of work.
Conveniently Located
Find us right where you need us!
Our shop is located in the west end of Kingston Ontario at 1141 Clyde Court.
We're open  8:30am to 5pm Monday to Friday 
Find us right where you need us!   Our shop is located in the west end of Kingston at 1141 Clyde Court.
Call or email  rvfixer@sympatico.ca to book your trailer service, repairs, winterizing and spring openings.  We look forward to serving you again this year.
Available Parts In Stock
Our fully stocked Parts Store is now located at our shop at 1141 Clyde Court.   
If we don't have it, we can order it for you!
Hardware
Mirage RV products
Boss Rv products
A/C covers
Dominator sewer hoses
Electical
Propane
Appliance
Sewer
Freshwater
Service, parts and expert installation for every kind of RV accessory! We have fully-certified RV and Propane technicians on staff.
Full-service shop and mobile service. Call for availability. If it needs to be repaired, we can do the job! Floors, roofs, toilets, electrical, appliances, propane, brakes, bearings, air conditioners, water heaters, slide outs, and more. Our authorized service centre for GLP Products, Atwood, Dexter, Camco, Valterra, Winegard, Dometic, Norcold and more.
Looks for us at an RV park near you!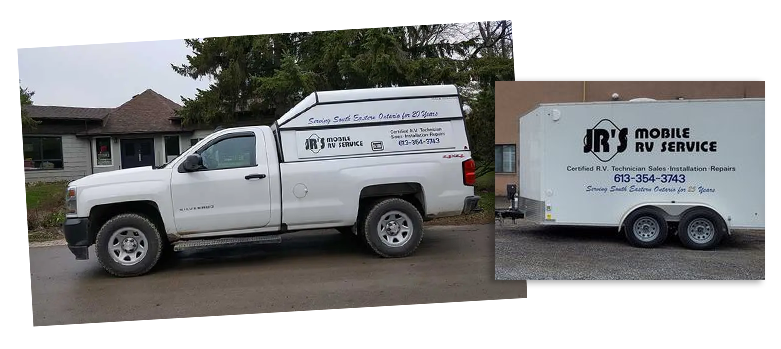 Parts and Supplies
Our team gets you back to being a happy camper. 
Get it done right!
Hit the road with confidence! We've got everything you need to make sure you have a trouble-free vacation!
Jamie Russell
CERTIFIED RV TECHNICIAN
and G2 GAS TECHNICIAN
Over 26 Years of Experience in the RV Trade
Six Years of Experience Teaching RV Trade
Jim Stinson
Jim Stinson,  30 years experience in the field
Certified RV Technician, member of the Ontario College of Trades
TSSA Certified in Propane
Also Certified in Appliance Repair, Troubleshooting, Accessories and Towing Brake Systems
Full Service RV REPAIR SHOP
Satisfaction Guaranteed
JR's Mobile RV Service is a dealer for Sunspace Rooms and Roofs for RVs and trailers.
Specialists to guide you through creating your dream indoor/outdoor living space for home, cottage or commercial use. Custom design your Sunroom, Screen Room, Patio Cover, Decks, Railings and more! Built to extend enjoyment of the outdoors without common annoyances like wind, rain, insects and harmful UV rays. Sunspace Sunrooms and WeatherMaster Windows & Doors add beauty, comfort and style to any space while increasing its value.
M-F: 8:30am – 5pm
Saturday and
Sunday: Closed
1141 Clyde Court
Kingston Ontario